Copy right reserved to its owner
The beauty of scenery depend on your heart and mind
The distance of your trip depend on your wallet.
I like this quote. I heard it over the radio station. In my opinion, it was very profound. I not yet reach the state where I used up my time and money for a journey. During a trip planning, I will allocate a budget.
I seldom allocate one day local trip budget. I usually just spend around RM100 for local one day trip.
Example are:
Sekinchan
Tanjung Sepat
Sungai Chiling
Book Fair
If the trip is overnight trip or oversea trip, I will plan my spending well.
List of budget items:
1) Transportation
If the trip required flight, flight ticket will be first priority. I will keep track every airline promotion. Compare the flight fare before buying. It become normal for me to stay up late nigh to grab the cheapest airfare.
Transportation will be depend on the tourist place
South Korea, China, Thailand, I will used public transport
Thailand, I will take cab
Bali, I will chauffeur a driver.
2) Accommodation
This category is depend on the cleanliness and strategies location. This will take more time to allocate as i need to read all the relevant hostel review on TripAdvisor. For example, I want to visit Kuta, I will look at the location and cleanliness review.
3) Entrance ticket
The approximate ticket price will be research first before I allocate.
4) Luggage Fee
This is only small portion. It depend on the air line company.
5) Food and Beverage
Most of the remaining budget was spend in this category.
6) Souvenir
This is the section have the least budget. There are lots of reasons.
Not enough money
I will only buy thing that is "NEEDED" not "WANT"
no place to put at home, mum will keep grumble since collect dust.
my relatives or friends can travel themselves to get souvenir
my photos, experiences and blog will be the best souvenir for all
I am environmental friendly person
I feel sad to throw away non recyclable packaging
The list will go on and on so I decided to stop here.
How to keep money while travel?
1) Ang pao
To prevent overspending or for backup purpose, I will use angpao to keep a sum. For example, South Korea hostel do not accept credit card. The bill was known before the trip. I kept that portion of money in an angpao and written on it "hostel" It is very presentable too during the payment. After the payment, angpao can be recycle too. Angpao is made out of paper. For me, I will always try to be environmental friendly when I travel.
2) "Ah Gong" wallet
"Ah Gong" do not refer to the Chinese word grandfather. It is a term created by my boy friends (beloved boyfriend and other male friends). If a trip is with a few friends, we will give a minimum amount of money to a treasurer. The treasurer will be in charge of "ah gong". Meal payment, buying entrance ticket or share a transportation, treasurer will used that money to pay. If the money run low, treasurer will informed everyone to top up.
This method curb the embarrassment of us seaching money while waiter waiting at our side. We do not have the trouble to pay up the bill later on. I do not like to look for small changes when other pay me back. Since everyone travel together,the safeness of the money was ensure too.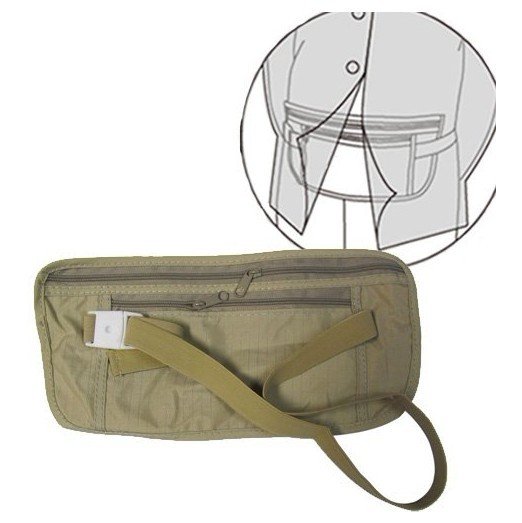 3) Waist bag or necklace passport bad
This can be seen in travel shop.